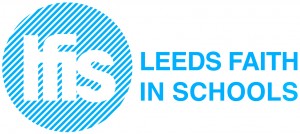 Nearly 30 years ago the churches in Leeds came together in response to the Faith in Leeds report to establish Leeds Faith in Schools to share the Good News with teenagers across the city. From working with a handful of schools in the beginning we now have partnerships which see schools workers based weekly in 8 high schools and academies across the city. Alongside our partner schools we also support a large number of other schools on a more occasional an ad-hoc basis with lessons, assemblies, visiting tours and one off projects.

We continually hope to be good news to the high schools of Leeds serving through the delivery of Assemblies, RE lessons, PSCHE lessons and mentoring groups. We continue to facilitate exciting lunchtime clubs, Christian Unions and after school activities, making space for students to connect and grow.

Our work is values-led and contributes to schools' SMSC responsibilities, serving the schools and forging space forging space for meaningful exploration of faith and belief in the life of our schools.

We have an active involvement in city-wide church youth work across Leeds, partnering with other youth organisations to help shape the landscape of Christian youth work in the city and supporting the local church in making room for young people to discover faith.

We believe that every teenager is brilliant, valuable and has a unique contribution to bring to society. We hope that through our work the teenagers we see grow in confidence, develop socially, emotionally and spiritually and get to live life in all its fullness

Address
The Cottage, Raynel Drive, Leeds, West Yorkshire, LS16 6BS
Get directions to Leeds Faith in Schools

There is disabled access and provision at Leeds Faith in Schools.
Latest news from Leeds Faith in Schools
Leeds Faith In School Appoints New Team Leader

Posted on: 18th July 2022

We're pleased to introduce our very own Ben Cordy as the new Team Leader here at team LFIS.
Latest job opportunities from Leeds Faith in Schools
Charity Administrator

paid

Closing date: 6th January 2023

The Leeds Faith In Schools team are looking for a new Charity Administrator to join our growing team in it's mission to serve and support the high schools of Leeds.

Category: Youth

07828 264542

Website

Contact: Ben Cordy

Facebook

Twitter