Leeds Faith In Schools - New Year 'Good News'
View all news
Posted on: 2nd February 2023
After a super busy Christmas period the Leeds Faith In Schools team have pulled together some stories and news from their work in the High Schools of Leeds. In a week where the education news has been largely quite bleak, this newsletter is packed with stories of hope and positive change in the lives of Leeds young people. The small but mighty Leeds Faith In Schools team look toward the term ahead and the opportunities to share faith, support young people, and see schools impacted by hope.
Click here to download and view our latest newsletter plus a letter from Ben our Team Leader about the opportunity for new work in East Leeds and beyond.
For more information about the work of Leeds Faith In Schools check out the website at www.lfis.org or email the team at info@lfis.org.
And if you're feeling generous and would like to support the work of Leeds Faith In Schools checkout how to give on their website here.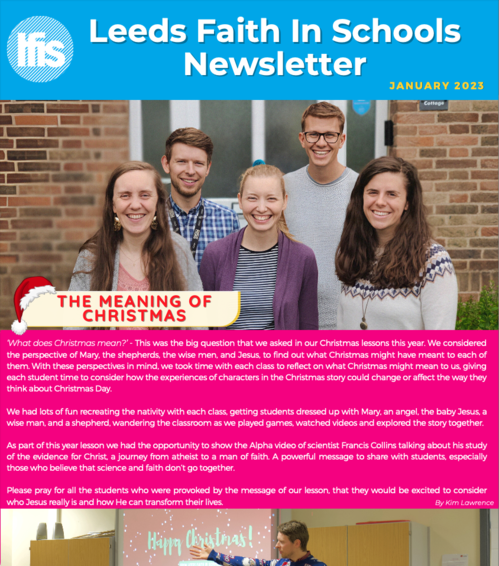 News website

07828 264542

Website

Facebook

Twitter

Ben Cordy

News category: Children, General, Social action, Youth