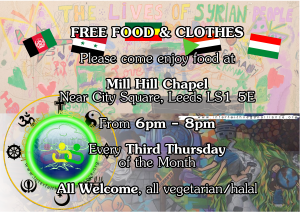 The IVA is a charitable association developing various community, health and environmental initiatives to make vegan information inspiration more accessible to the diversity.

One such initiative is the Community Kitchen Garden. Here we need volunteers for the allotment to help cultivate the site and prepare the soil for growing food. This may involve general gardening tasks such as weeding, digging, hoeing, composting, grass cutting, pruning/weaving shrubs/trees, sowing and planting seeds. General hand tool maintenance, securing handles, sharpening tools etc. No previous experience is required, although anyone with forest gardening and/or permaculture design skills are very much welcome (1-16 hours per week).

Alternatively, Project SOS Homelessness Leeds (The Great Vegan Feast) involves preparing and sharing food for people in poverty. Volunteers may help distribute food, clothes and other essential items to the homeless, refugees, asylum seekers. No previous experience is required although anyone with experience in giving support and advice to people with drugs and alcohol misuse problems, or anyone able to give benefits or immigration support and advice are very welcome. (2-6 hours on the third Thursday of each month at Mill Hill Chapel.
Opening hours
Sunday: 10:00am-2:00pm and 2:00pm-6:00pm
Monday: 10:00am-2:00pm and 2:00pm-6:00pm
Tuesday: 10:00am-2:00pm and 2:00pm-6:00pm
Wednesday: 10:00am-2:00pm and 2:00pm-6:00pm
Thursday: 10:00am-2:00pm and 2:00pm-6:00pm
Friday: 10:00am-2:00pm and 2:00pm-6:00pm
Saturday: 10:00am-2:00pm and 2:00pm-6:00pm

Address
94 Holborn Towers, Woodhouse, Leeds, Yorkshire, LS6 2QD
Get directions to Interfaith Vegan Alliance

Category: Social action

0113 217 8795

Website

Contact: Darren

Facebook

Twitter
Churches linked to Interfaith Vegan Alliance

All Souls Church, Leeds

Mill Hill Chapel