Anglican Diocese of Leeds Internship Programme
View all projects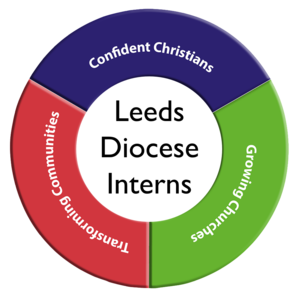 The Anglican Diocese of Leeds' Internship programme is a great opportunity for young adults to explore more of what it means to be a disciple of Christ and to serve his church.
This volunteer scheme runs from September to July and involves practical placements, training and community living.

Our priority is to help interns grow in relationship with God. Each internship involves leadership experience; training in biblical studies, theology and leadership; developing transferable work skills; and an opportunity to consider God's calling for the future.

Our hope is that the internship will establish learning, habits and disciplines that help interns to be transformed daily by the power of the Holy Spirit, to be more like Christ. We want to grow and nurture leaders who will serve the Kingdom of God in all areas of life, from business, politics, media, education and medicine as well as leading churches across the country and beyond.

Address
Church House , 17-19 York Place, Leeds, LS1 2EX
Get directions to Anglican Diocese of Leeds Internship Programme

There is disabled access and provision at Anglican Diocese of Leeds Internship Programme.

Category: General

0113 2000540

Website

Contact: Katharine Greathead

Facebook
Churches linked to Anglican Diocese of Leeds Internship Programme

Anglican Diocese of Leeds