If You Went Down To The Beach ......
View all news
Posted on: 5th August 2021
After 2 weeks of sunshine and exceedingly high temperatures the end of July was somewhat cooler. However the rain held off and the sun did come out eventually.
So 30 intrepid young people, from Beeston and Halton Moor, and 8 leaders set off from Leeds on Sunday morning, looking forward to splashing in the sea and spending some time together.
After a relatively uneventful journey we arrived at Mappleton to find we weren't the only ones with the idea of spending a Sunday by the sea. We found a spot to park the 3 minibuses and unloaded young people and equipment.
Thankfully the beach is big enough to accommodate plenty of people so we easily found a spot with plenty of space. Once we had put out the picnic rugs there was a rush for the sea. Nearly everyone got wet, sandy and hungry! After the initial time in the sea there was lunch, rounders, a sandcastle tide battle and then a real tide race to remove all our belongings to the other part of the beach where the tide didn't make all the sand dissappear.
Once there, BBQs were lit, burgers cooked, hands sanitised and 38 people fed. We took the obligatory group photo and packed up.
It was a great day and a big thanks must go to St Luke's Cares, the Hunslet Club, City Evangelical Church, the Real Junk Food Project and The Salvation Army for their partnership/support which made this happen.
To find out more about the summer adventures see their newsletter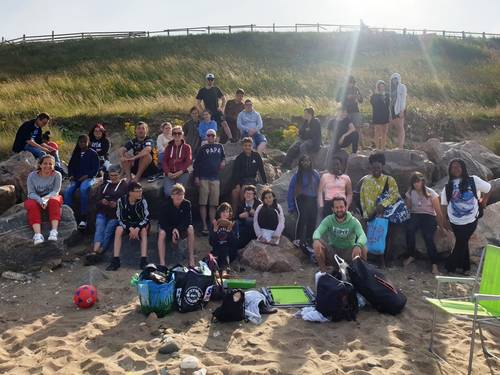 News website

07904004362

Website

Facebook

Twitter

Claire Probert

News category: Youth