Celebrate World Porridge Day with Mary's Meals
View all news
Posted on: 18th September 2023
Join us in celebrating World Porridge Day this October by having a porridge party with your friends, in school or with your church community! World Porridge Day allows you to support Mary's Meals with fun activities, while raising funds to provide nutritious meals in school to hungry children in some of the world's poorest communities. The promise of these meals attracts children to the classroom, where they can gain an education and grow up well-nourished and well-educated to become the men and women who will lift their communities out of poverty.
Mary's Meals marks World Porridge Day every year to celebrate the life-changing power that porridge has in the communities in which we operate. For Ruth in Zambia, the nutritious porridge she receives is the motivation she needs to go to classes and learn with her peers. She said: "Every time I am in school, I enjoy Mary's Meals porridge. The porridge gives me energy to participate in class. I can concentrate in class better after I eat my porridge."
Daily school meals give Ruth the energy to learn, something she didn't have before Mary's Meals arrived at her school. This allows her to dream of a future where she can make a real difference in her community and beyond. She said: "My favourite subject is English, and I hope that when I complete my secondary education, I can become a nurse."
Perhaps you could gather together to help children like Ruth by having a Porridge Breakfast after your church service or bake some oaty goodies to sell?
If you want to get involved in World Porridge Day, download our FREE Porridg Party Pack by visiting www.marysmeals.org.uk/campaigns/world-porridge-day
The pack includes advice on how to throw a porridge party to raise funds, quiz questions, as well as oat-based recipes from Celebrity MasterChef champion Sophie Thompson, and from Charlotte Oates, writer of the popular blog, Charlotte's Lively Kitchen.
If you would like any further information on World Porridge Day or would like to find out about other ways you could support the work of Mary's Meals, please contact Fran Lawson at fran.lawson@marysmeals.org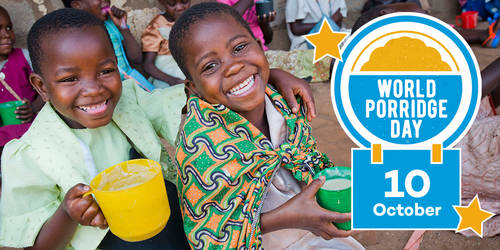 News website

0800 698 1212

Website

Facebook

Twitter

Fran Lawson

News category: Children, International, Social action