Sunday, 31st May: 6:00pm - 7:40pm

LS6 3HN
Global Day of Prayer on Zoom
Date - Pentecost Sunday 31st May.
Time - 6 - 7.40 pm (See Flyer below)

This year's Global Day of Prayer will be taking place on Zoom and will involve break out rooms, a series of pre recordings and worship will assist in helping us pray for different nationalities and people groups. There will be a substantial focus on how different nationalities are coping with Coronavirus whether they be here in Leeds or abroad. Thank you to everyone who has participated. The zoom link is below and to anyone who hasn't get it please email hopenationsleeds@gmail.com.

Global Day of Prayer
Zoom Link
https://us02web.zoom.us/j/83267519603?pwd=ajNQRjJpY3k1R2xTSUF1YUkybFNVUT09
Meeting ID - 832 6751 9603
Password - 971242
This meeting will have a waiting room.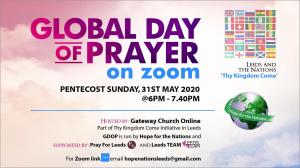 View event flyer

07546593804

Website

Posted by: Network Leeds

Event category: Prayer