Sunday, 20th May: 6:00pm - 8:30pm

Bridge Community Church , Rider Street, Leeds, Yorkshire , LS9 7BQ

We invite you to join us at Bridge Community Church for this years Global Day of Prayer (See Flyer below)

Around the world the Global Day of Prayer will be taking place in a number of cities
on Pentecost Sunday, 20th May, including here in Leeds (Time 6 - 8:30pm). The Global Day of Prayer has happened over the last 12 years in Leeds and we are very much looking forward to praying for different nations around the world and different nationalities that are situated here in Leeds. Gateway will be leading a slot on the theme of India with Sam Evans and Lazarus. This years event will be linked with the World Prayer Centres Time to Turn Initiative as we seek to pray that our City, Nation and World will turn back to God.
See Facebook event here: https://www.facebook.com/events/568903170141538/
If you have any inquiries then please either get in touch with Tosin Abbey on t.abbey@me.com
or you can email prayforleeds@gmail.com.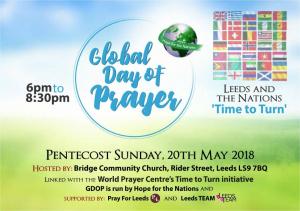 Event website

View event flyer

07546593804

Website

Website

Facebook

Twitter

Posted by: David Paterson

Event category: Prayer