Wednesday, 22nd February: 7:00pm - 9:30pm

New Life Community Church , Haw Lane, Yeadon, West Yorkshire , LS19 7XQ
We are delighted to be hosting Rodney Burton Ministries from, USA.
Fan the Flame: an evening of worship and God's word. As we seek God for his life and fires of revival to be rekindled once again.
Bio:
Rodney Burton was born in Indiana as the youngest of eight children. He earned an Associates Degree in Practical Ministry from Brownsville Revival School of Ministry (1997-1999), and he is ordained with the Assemblies of God. During his time at Brownsville, he married Kim, and the two of them have been involved in ministry since graduation. They have served as staff pastors in Missouri, as lead pastors in Kentucky and Illinois, and they currently serve as traveling ministers with a desire to spread the fire of revival around the world. Rodney's heart is to see the church come alive with the power, presence, and fullness of God and his preaching and writing express that heart.
A love offering received on the evening.
Looking forward to seeing you and sharing fellowship with you.
For more info:
Tel: 0113 250 6840
Email: info@newlifeyeadon.org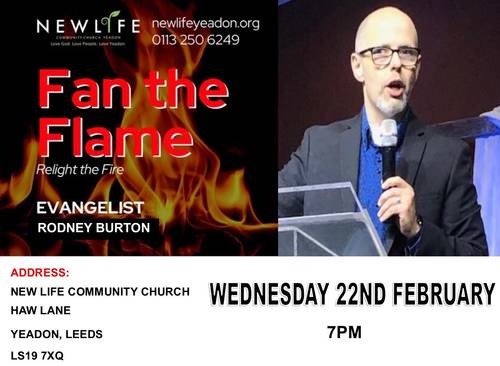 Event website

View event flyer

0113 250 6840

Website

Facebook

Posted by: Carol Comrie

Event category: International