Wednesday, 18th May: 7:00pm - 8:00pm

New Life Community Church, Haw Lane, Yeadon, West Yorkshire , LS19 7XQ

Andy, with his wife Gina, is the senior pastor of Family Church, a multi-congregational church located on the south coast of England. Andy is a visionary leader who has grown the church from twelve people on its first day to a significant and influential church in the UK and beyond. Andy has a wealth of experience and wisdom to offer that comes from a very successful time in ministry.
As well as planting churches, he has been involved in many forms of evangelism including travelling as an evangelist for many years across the UK and throughout the world. A highly sought-after conference speaker for events and conferences, Andy regularly shares on a whole range of subjects including spiritual leadership, building healthy lives and churches, and evangelism. His desire is to lead people to Jesus and help them to discover all that is now available to them through what Jesus has done for them. His personal mandate is "to know the King and to advance His Kingdom."
There will be anointed worship on the evening.

Free evening with a love offering collected to bless Andy with.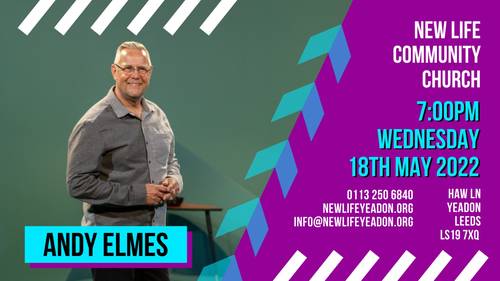 Event website

View event flyer

0113 250 6840

Website

Facebook

Posted by: Carol Comrie

Event category: General