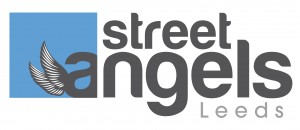 The Leeds Street Angels began in January 2012. It is a Christian initiative that seeks to show the love of God to those who have or may become vulnerable during the night life of Leeds.
We provide care and compassion and are on patrol every Friday and two Saturday nights each month in Leeds city centre from 10.30pm – 3am. We offer flip flop sandals to protect bare feet from broken glass or other hazards; bottled water to prevent dehydration; foil blankets to prevent hypothermia; hair bobbles to tie hair back when young people are vomiting and non-alcoholic wipes and tissues. We provide our volunteers with Hi-Visibility jackets with the Street Angels logo printed on the front and back and back packs for carrying resources, note books, first aid kits and business cards to give out. We also hand out Spikey's to prevent bottled drinks from being 'spiked'.
We are listening ears and helping hands providing information and directions. We assist those who are vulnerable, distressed, lost, unwell or confused.

Do get in touch if you'd like to volunteer with us, we'd love to hear from you!
Opening hours
Friday: 10:00pm-12:30am and 1:00am-3:00am

Address
Leeds, LS1 6HW
Get directions to Leeds Street Angels

There is no disabled access and provision at Leeds Street Angels.
Latest news from Leeds Street Angels
Carols for Angels

Posted on: 14th December 2022

Kirkstall singers bring festive joy to raise money for Leeds Homeless Street Angels

Category: Social action

07582925978

Website

Facebook

Twitter