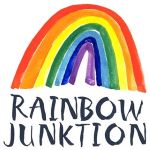 All Hallows' café, Rainbow Junktion, is on a mission to tackle food poverty, fight food waste and build community.
The café intercepts food that would otherwise be thrown away from supermarkets, restaurants and many other sources, and turns it into healthy, nutritious meals for anyone and everyone on a pay-as-you-feel donation basis.

Rainbow Junktion is open on Monday and Thursday, and on Friday we run a Foodshare with pay-as-you-feel shopping. Find out more on the Rainbow Junktion website or visit the Facebook page for up-to-date information and opening times. https://www.facebook.com/search/top?q=rainbow%20junktion

Volunteers, financial support and food donations are always hugely appreciated. To find out more please contact our café manager, Emily.
Opening hours
Monday: 11:30am-3:00pm
Thursday: 11:30am-3:00pm
Friday: 11:30am-4:00pm

Address
All Hallows Church, 24 Regent Terrace, Leeds, LS6 1NP
Get directions to Rainbow Junktion

There is disabled access and provision at Rainbow Junktion.

Category: Social action

07421 455346

Website

Contact: Emily Carrigan

Facebook

Twitter
Churches linked to Rainbow Junktion

All Hallows Church