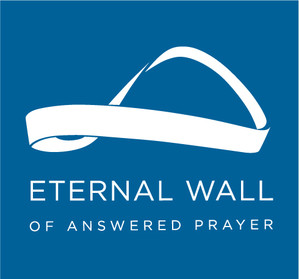 Eternal Wall of Answered Prayer will be a massive, invitational, thought-provoking piece of public art, aiming to ignite a national conversation about prayer. The iconic structure will be built using one million bricks, each brick featuring an answered prayer.
This Christian landmark will make hope visible by digitally linking visitors with our database of one million answered prayers, a storehouse of hope, using interactive technology and a bespoke app. Visitors will be able to use their smart device, pointing it at any brick to read an answered prayer.
Eternal Wall will house 750,000 answered prayers from the UK, and 250,000 answered prayers will be collected from overseas, declaring the experience of Christians around the world, in many different contexts; that Jesus is alive, he listens and he answers prayers.
Built near Coleshill on the outskirts of Birmingham, Eternal Wall will stand over twice the height of the Angel of the North, and is expected to attract 300,000 visitors each year.
We're gathering answered prayers from every village, town and city in the UK, and we've allocated 6,171 answered prayer bricks to represent the city of Leeds. Can you help us to gather 1,010 of these answered prayers over the next two years? Sharing your stories is free, just head to our testimony page: www.eternalwall.org.uk/testimony
We want to empower people to share their story, inviting Jesus to move again in the lives of those around them. Connect with us, and together, let's make hope visible!



Address
Eternal Wall of Answered Prayer, Nettle Hill, Brinklow Rd, Ansty, Coventry , West Midlands, CV7 9JL
Get directions to Eternal Wall of Answered Prayer
Latest news from Eternal Wall of Answered Prayer
Eternal Wall of Answered Prayer - Game Changing News!

Posted on: 28th June 2022

UK Christian landmark project receives £4 million match funding and allocates over 6000 bricks for Leeds!

Category: Prayer

07774 151604

Website

Contact: Michelle Heritage

Facebook

Twitter
Churches linked to Eternal Wall of Answered Prayer

St George's Church