'Your Local Pantry' Project
View all news
Posted on: 5th March 2021
History of the Pantries
The idea for the 'Your Local Pantry' project began in 2013 when Stockport Homes noticed a significant increase in the number of people relying on emergency food supplies to feed themselves and their families.
Stockport Homes wanted to develop a scheme that would help people before they reached crisis point, offering them the support of a reliable and good quality food resource at minimal cost.
They found a key partner in FareShare Greater Manchester, who enabled them to access food from industry surpluses; they also built up relationships with other suppliers to create a comprehensive food offer to their local communities.
Penny Lane Pantry, Lancashire Hill opened in August 2013. For just £3.50 each week residents can join as members and in return receive a minimum of 10 items from a wide range of goods – often worth in excess of £15 at retail value. All of the member subscriptions go towards paying for the goods they stock.
Since then they've opened another three Pantries, helping them reach even more people across Stockport.
The Pantry is not just about food; it also offers local residents work experience opportunities, assisting with future employment. To its members it offers training courses, cooking demonstrations and seasonal competitions and events.
There's been a great deal of interest from outside Stockport with other organisations looking to replicate the idea for their own communities; Stockport Homes has supported a number of these to set up within Greater Manchester.
Due to this popularity they have worked in partnership with Church Action on Poverty to develop a social franchise, making setting up a Pantry an easy process.
Pantries in Stockport are now managed under foundations stockport SHG (Stockport Homes Group).
Your Local Pantry Franchise
The Your Local Pantry franchise package includes the following:
Pantry Handbook
A comprehensive manual giving step-by-step instructions to guide you through setting up and operating a Pantry.
Pantry management software
A bespoke volunteer, operations and stock management system enabling automated processes and comprehensive reporting.
Procedures and templates
Documents relating to day-to-day Pantry operations and performance management.
Marketing materials
Personalised PDF templates of literature and operational materials including membership forms and flyers.
Website
Advertising of each Pantry site, good news stories and key messages via www.yourlocalpantry.co.uk
Set up and development support
One-to-one support from a dedicated Development Officer, including help with site appraisals, contacts and initial set up.
Training support
Advice and guidance from the Development Officer and shadowing opportunities at existing Pantries.
Annual conference and networking opportunities
Ongoing communications across the Your Local Pantry network.
Contact:
If you are interested in setting up a Your Local Pantry franchise, please contact the Your Local Pantry team on info@yourlocalpantry.co.uk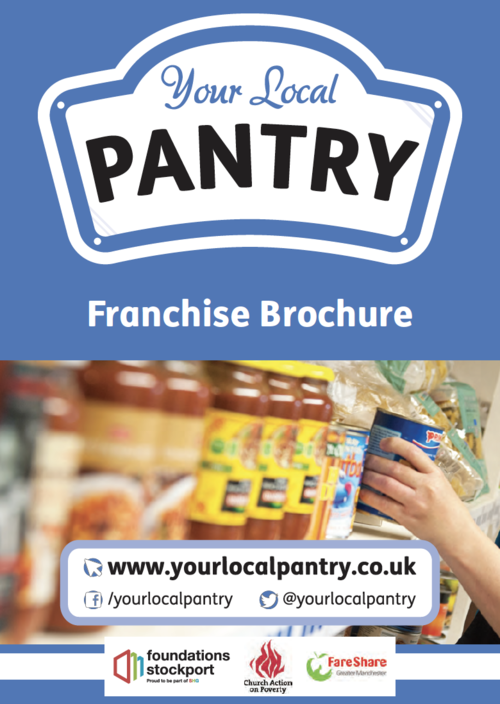 Network Leeds

News category: none