Waverley Abbey College Bradford Campus
View all news
Posted on: 20th May 2022
You probably know somebody who's struggled with aspects of their mental health.

We all feel anxious at certain times in life. Things crop up - exams, job stress, relationship breakdown. And recently we all had to contend with repeated lockdowns and ongoing uncertainty.
Have you found yourself wanting to support friends or family, but you're unsure exactly what to say or how to help?
You can build your confidence in these situations and pick up key counselling skills with our courses at Waverley Abbey College, Bradford Campus.
Counselling training: dip-your-toe-in or become qualified
You can study three different levels of counselling training at Waverley Abbey College, Bradford Campus. All of these courses are taught in-person.
Chaplaincy training
Chaplaincy is an increasingly vital role in our communities and in regulated areas such as prisons, hospitals and the army.

The next cohort on the Contemporary Chaplaincy course begins in September 2022, and there's still time to apply. It's a distance education course, with daytime or evening classes (depending which suits you better).

We'd love to see you at our Bradford Campus. Please do get in touch if you'd like any more information. Or you can attend our open day on 11 June.
Waverley Abbey College
Bradford Campus
Church of the Way
158 Bradford Road
Idle
Bradford
BD10 8SA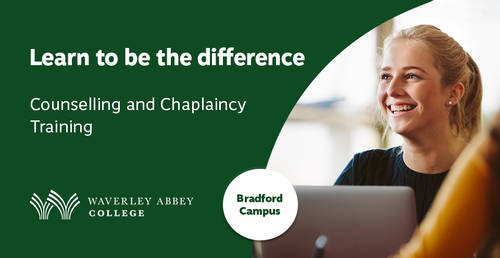 News website

Joy McIlroy

News category: General