The home as sacred space in lockdown
View all news
Posted on: 13th May 2020
Jane de Gay, Professor of English Literature at Leeds Trinity University and Associate Priest at St Martin Potternewton, has been giving thought to the question of how to maintain a sense of sacred space for worship during the lockdown.
In seeking historical precedents for worshipping at home, Jane considers the important contributions to the understanding of the home as a sacred space made during the long nineteenth century by members of the Clapham Sect and their descendants. The Clapham Sect was a group of middle-class families, including the Venns, Wilberforces and Stephens, who generated religious revivals within England and missionary movements abroad, and whose philanthropic successes included the abolition of slavery.
Here's an extract of Jane's article https://lcileeds.org/the-home-as-sacred-space-in-lockdown/
The idea of home as a sacred space resonates with the theme our Bursary recipients, visual artist Phill Hopkins and community theologian Dr Charlotte Naylor Davis are exploring. The project title "House of Questions" reflects their thinking about what a church should be and what home should be. Charlotte's Arts & Theology Bursary latest blog asks "Where is your home church? When we ask such a question we are not asking about physical location are we?"
Phill's documenting the pairing on Instagram. "At the moment I am working with notions of questions rather than answers, freedom, safety and openness. In light of the present COVID-19 pandemic, these same concerns may be on many of our minds."
Phill would like to collect video clips from lots of different people asking a question, to form a piece within the "House of Questions". If you were free to ask ANY one question about faith/God/religion/theology, what would it be? If you want to submit your question Phill is asking for a very brief video of you asking the question and nothing else, preferably a 'head and shoulders' shot. It does not have to be in English if it is not your first language. Please send your video clip to phillhopkinsart@gmail.com .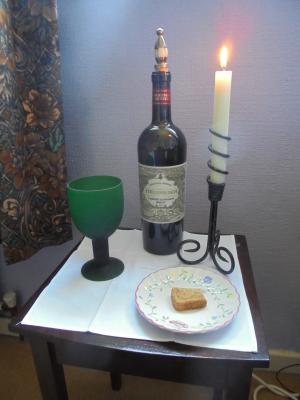 News website

0113 2454700

Website

Facebook

Twitter

Lawrence Cockrill

News category: General, Prayer