Posted on: 31st March 2020
Being unable to hold Spring Harvest 2020 in Harrogate, Minehead and Skegness has brought great disappointment to the team at Essential Christian as well as thousands who were booked to attend this annual event. Spring Harvest has run consistently since it started and celebrated its 40th year in 2019.
However, plans have just been announced to use creative online methods this year instead, delivering Spring Harvest's unique worship, teaching and all-age content to homes across the UK and beyond.
Over the weekend, Spring Harvest launched Spring Harvest Home, which will be available online via YouTube from 13th to 17th April. The team are working hard to adapt and deliver the heart of Spring Harvest… direct to people's living rooms!
Spring Harvest Home will be a completely free online conference programme with content suitable for everyone in the family. Lined up for the week after Easter, material will predominantly be built around the 2020 theme of "Unleashed - The Acts Church Today".
Head of Spring Harvest Programme, Abby Guinness said:

"Never has there been a more appropriate time for us to gather as a community to worship, learn, laugh and pray together. This digital age gives us an exciting opportunity. Spring Harvest 2020 is free for anyone to join us! It's our prayer that everyone who tunes in will encounter God, be inspired by the good news of Jesus this Easter, and see our communities and our culture transformed by the power of the Holy Spirit."

You can find out further information on YouTube here.
Spring Harvest is encouraging friends, family, neighbours and churches to also connect online with Spring Harvest Home, for what could be a truly unique time of being Church together.

Notes:
For further details or information please contact Charlie Price, Head of Marketing and Communications on: charlie.price@essentialchristian.org
For further information visit www.springharvest.org.
Big Start, morning Bible teaching, live worship, specialist seminars and workshops and some light-hearted sofa viewing will be available right through the day. Spring Harvest Home will be available online through YouTube, so go to YouTube.com and search for 'Spring Harvest' or simply click here. (Please note that more content will be added from 13th April).
For images and resources for Spring Harvest Home then click here to download. We will keep adding to these too.
Spring Harvest aims to create space for all people to encounter God, to be confident in their faith and to see transformation in lives and communities. It's an event where everyone is valued and cared for, and where the church is supported and resourced. This with the aim that we go ready and able to serve others, at home and around the world, in the name of Jesus.
Spring Harvest operates under the banner of Essential Christian, registered charity number 1126997.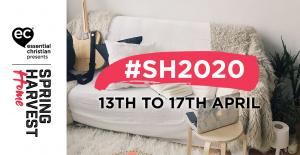 01825 769000

Website

Facebook

Twitter

Network Leeds

News category: Prayer