Posted on: 4th January 2023
Leeds Sanctuary are pleased to announce the launch of a Life After Stillbirth support group, for those who have experienced stillbirth or late-term termination of a pregnancy for medical reasons (TFMR).
The group is being hosted by Sam Havis, wellbeing practitioner at Leeds Sanctuary, together with a volunteer and women from Hope Bereavement Support and Woodhouse Community Centre. The group met online for six weeks across November and December, and will restart this month on Saturday 21 January for six weekly sessions at Mill Hill Unitarian Chapel, using creative crafts to share support, seek hope and find a way to live well while never forgetting.
Describing the vision of the group, Sam Havis said "Our aim is to connect women who have experienced a similar bereavement no matter how long ago that may have been. As a group we support each other in healing, in learning about ourselves and in moving forward with hope."
If you have experienced stillbirth or late-term TFMR, you can join the group at any time. More information and the link to book your place can be found here:
www.leedssanctuary.org.uk/communities/life-after-stillbirth/
Leeds Sanctuary is a network of communities in Leeds City Centre. We represent the Methodist Church, and we create spaces both online and in-person, for people of all faiths or none, to build community, care for their wellbeing, and explore activism and discipleship. Find us on Facebook, Twitter and Instagram at @leedssanctuary, or head to our website: www.leedssanctuary.org.uk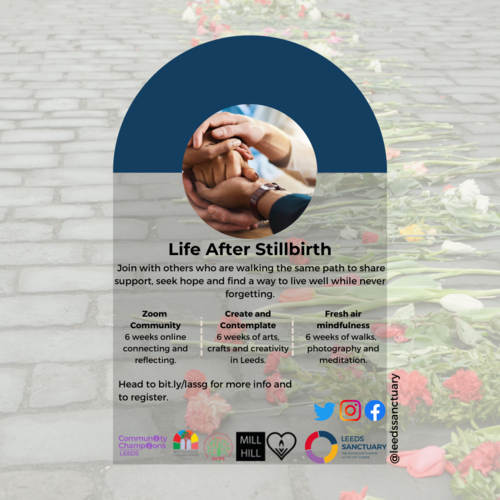 07903755995

Website

Facebook

Twitter

Network Leeds

News category: none