Posted on: 17th March 2022
Katherine Hogg is the local Schools of Sanctuary (SoS) Lead. She has lived, studied and worked in Leeds for the last 15 years and one aspect she appreciates about the city is its diversity.
She previously worked at Christian Aid working locally in Leeds and beyond, educating supporters about international issues affecting the majority world. One key issue which came to the fore during her time there was that of migration and the situations facing those seeking sanctuary either in their countries of origin or beyond its borders.
Katherine is keen to continue supporting development of the SoS network across Leeds. More details here.
Katherine has written a booklet for schools to explain the SOS Scheme, which was sent out to schools across Leeds recently.
To find out more contact Katherine Hogg at sanctuary@leedschurchinstitute.org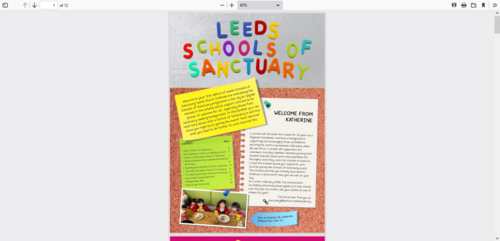 News website

0113 2454700

Website

Facebook

Twitter

Network Leeds

News category: Resource promotion