Leeds Craftivists - Biodiversity
View all news
Posted on: 26th January 2023
Following the success of Leeds Craftivists' Cost of Living Campaign in Autumn/ Winter 2022, the group now turn their attentions to "Biodiversity".
Biodiversity is a general term for all the different forms of life you might expect to find in one place - animals, plants, bacteria, etc. Together, these differing forms of life make up a sort of ecosystem, and their co-existent sustains a balance which continues to make thriving life possible (you can read more about Biodiversity and why it matters here).
"The climate crisis is well known, but we are also in a state of ecological emergency." said Anna Bland, one of the Leaders of Leeds Craftivists. Leeds City Centre is an area of particular concern when it comes to Biodiversity, with one local councillor labelling it a "biodiversity desert".
Caring for our rich ecosystems is fundamental to our survival so the Leeds Craftivists will be campaigning for greater biodiversity in the City Centre and supporting national initiatives to increase biodiversity legislation. If we act now, we believe that these ecosystems can recover. If you'd like to join our hopeful campaign, head to our website for more information and to register for our online and in-person gatherings: Leeds Craftivists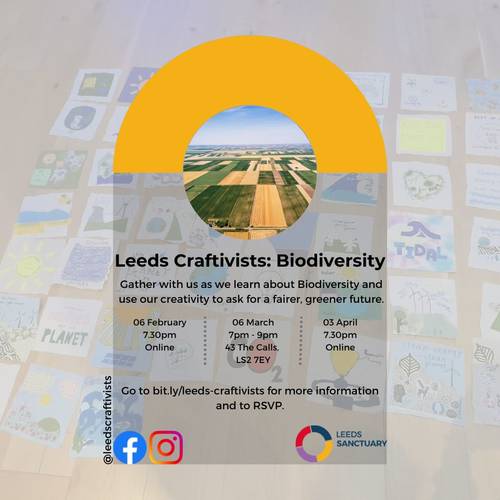 News website

07903755995

Website

Facebook

Twitter

Emily Smith

News category: General