LCCT Telephone Prayer/Listening Service
View all news
Posted on: 7th April 2020
Corona Virus (COVID-19)
Are you feeling anxious? Worried about loved ones? Uncertain what the future holds?
Would you like someone to pray with you?
email hotline@networkleeds.com, include your telephone number, and one of our team of volunteers will call you.
Do not be anxious about anything but in every situation, by prayer and petition, with thanksgiving, present your requests to God ( Philippians 4:6)
Please be aware that we are not offering a counselling service, nor can we offer any practical help, although we will, wherever possible, signpost you to other relevant organisations.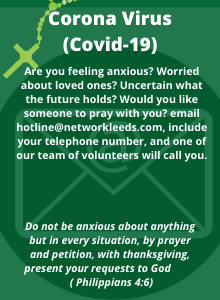 News website

Network Leeds

News category: General