Find Disability Inclusive Churches Near You
View all news
Posted on: 17th May 2023
Through the Roof is a registered charity that exists to Transform lives through Jesus with disabled people.
The charity's name comes from the Bible account where some men break through the roof to help their disabled friend meet Jesus (Luke 5). They recognise that every person is made in the image of God and has inherent value and worth, which includes people who have personal experience of disability.
Find out more about Through the Roof by visiting their website through the link below.
Click here to see the online Map.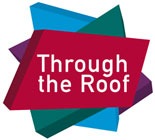 News website

Network Leeds

News category: General