Do you fancy an Extreme Brew?
View all news
Posted on: 25th January 2023
We sent some of our brave EcoGroup members to the top of our tower to enjoy a Fairtrade cuppa – but can you do better?
We're looking for photos of your Fairtrade cups of tea, coffee, hot chocolate or another brew in a mug, in an unusual or amusing setting – and you can share them with us ahead of the Big Brew using #ExtremeBrew on Twitter or Instagram, or by e-mailing them to events@bradfordcathedral.org
(Obviously, please don't do anything dangerous / illegal in the pursuit of your unusual drinking location!)
We look forward to seeing what you come up with…!
More information about the Fairtrade Fortnight Big Brew here.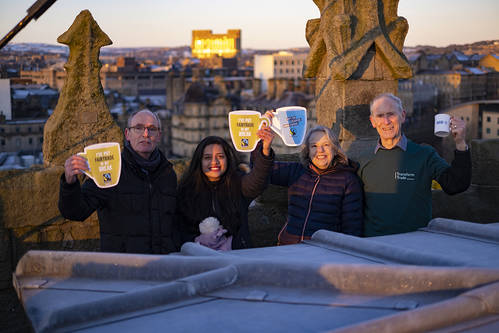 News website

01274777720

Website

Facebook

Twitter

Philip Lickley

News category: General