Director of Music Alexander Berry to leave Bradford Cathedral this summer
View all news
Posted on: 14th June 2023
Alex says, "It has been an honour to serve as Director of Music at Bradford Cathedral. When I was appointed at the age of 27, I was the youngest cathedral organist in the UK. It has been the most extraordinary formative experience, and I am so grateful to the clergy, choir and congregation for their generosity during my time here. I shall miss you all greatly.
"I look forward very much to returning to the Fens. I read music at Queens' College, Cambridge and spent a further couple of years working at Ely Cathedral, so the city and region are very dear to me. I am looking forward to joining the worshipping community at Great St Mary's, and to leading and developing its choirs over the coming years".
Alex's official farewell takes place on Sunday 9th July at the 10:30am Eucharist. After 3:30pm Choral Evensong, there will be a drinks reception, and Alex will give a special organ recital.
More details will be published in due course, and everyone is warmly welcome to attend.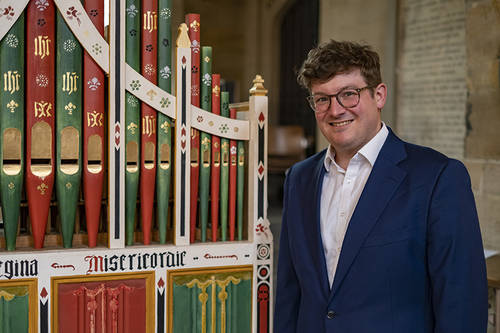 News website

01274777720

Website

Facebook

Twitter

Philip Lickley

News category: Music