Church work to support Hong Kong arrivals in Leeds makes national news
View all news
Posted on: 5th October 2023
Revd Dave Ho Young, vicar at St Barnabas, Alwoodley, Leeds spent a recent sabbatical researching migration from Hong Kong and met with Cindy Yu, assistant editor at the Spectator magazine and host of the 'Chinese Whispers' podcast.
A expert on China and Hong Kong, Cindy originally comes from Nanjing in China, emigrated to Britain as a child, and now is a leading commentator on Chinese politics, society and culture.
Revd Dave, who has Hong Kong Chinese heritage has been working with his congregation to support people from Hong Kong since the UK Government changed the rules in 2021 to allow Hong Kong citizens with British National (Overseas) passports to come and live in the UK. St Barnabas now runs a successful informal English classes programme for Hong Kongers and has a number of the congregation who come from Hong Kong.
Following on from their meeting in London, Cindy (pictured with Revd Dave) came to Leeds in June to visit St Barnabas to research a story in the Spectator, which has been published this week.
Read more here.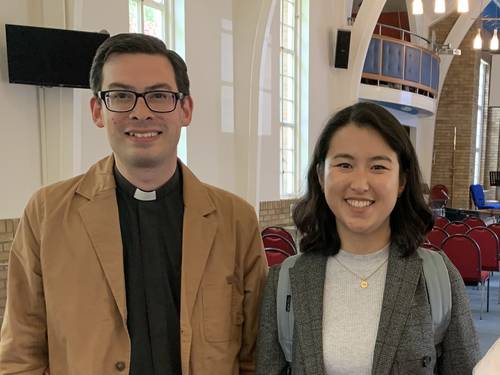 News website

0113 3459094

Website

Facebook

Network Leeds

News category: International, General