Cathedral Opens Its Doors To Light Night Crowds
View all news
Posted on: 24th October 2023
Thursday 12 October marked the start of the nineteenth installment of the cultural showpiece, Light Night Leeds, which has grown to become the UK's largest annual arts and light festival. Councillor Jonathan Pryor, Leeds City Council's deputy leader and executive member for economy, culture, and education, said: "Each year, Light Night sets the standard for culture in Leeds, transforming some of the city's best-loved locations and bringing thousands of people together to enjoy a spectacle which is truly unlike any other. Light Night also typifies the unique capacity of the arts to unite people of all ages, from all walks of life in celebration of an experience which is beautiful, engaging, and inspiring."
Leeds Cathedral took part in the event on the evening of Friday 13 October. The Cathedral's exterior was floodlit and inside the lights and candles shone brightly to illuminate one of the city's architectural gems.
During the evening visitors were introduced to the cathedral by a large team of stewards and welcomers drawn from the Cathedral community and they were able to enjoy the beauty of the building's interior, many of them doing so for the first time. Well over two thousand people came through the doors and at times they had to queue outside to enter the Cathedral.
Below is a postcard that has been put together from the "What Three Words" study carried out during Light Night where visitors were invited to share three words to describe how the experience of visiting the Cathedral made them feel. It's encouraging for everyone connected with the Cathedral to see so many positive words being expressed.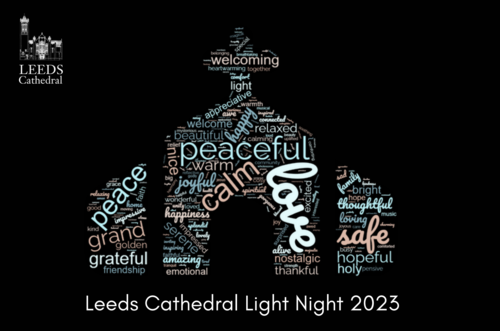 News website

Website

Twitter

Network Leeds

News category: none