Bradford Cathedral and Bradford Council hold the 77th Bradford Festival of Remembrance
View all news
Posted on: 8th November 2023
The event, held in conjunction with Bradford Council, began with the raising of the ensign – a military flag – in the Cathedral, before there was a welcome from the Very Revd Andy Bowerman, Dean of Bradford, and Councillor Gerry Barker, the Lord Mayor of Bradford.
The programme included community singing of popular songs from the First World War for around 15-minutes, led by Martha Hayward; and then a 45-minute concert with music from the City of Bradford Brass Band, conducted by Matthew Ryan, and the Bradford Cathedral Choir, conducted by Bradford Cathedral Director of Music Graham Thorpe and, for some pieces, accompanied by Dr Ed Jones on the organ. Pieces played included 'Upon Your Heart'; Elgar's 'Nimrod – Enigma Variations'; and 'Hymn to the Fallen' from the film 'Saving Private Ryan'.
You can read the full story on the Bradford Cathedral website.
You can now download resources for the period of Remembrance from our education seasonal resources page at https://bradfordcathedral.org.uk/education/digital-resources/seasonal-resources/#remembrance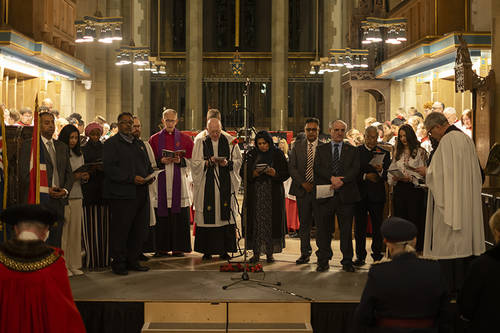 News website

01274777720

Website

Facebook

Twitter

Philip Lickley

News category: General