Saturday, 25th November: 7:30pm - 9:30pm

Blenheim Baptist Church, Leeds, LS2 9ER
SONGS FROM AROUND THE WORLD - Saturday 25 November, 7:30-9:30PM at Blenheim Baptist Church.
Experience music like never before, enjoy new songs and dances, hear amazing stories, and enjoy international snacks! Resonance Band is a collective of musicians passionate about celebrating cultural diversity and honouring the community through worship music who will be our headliners for the night.

This is an opportunity to come and invite non-Christian friends along to hear God praised in many different languages. It might sound unusual but it was really appreciated by international students when we did this at the university before.

You can get your free tickets at https://transformationsleeds.org.uk/resonance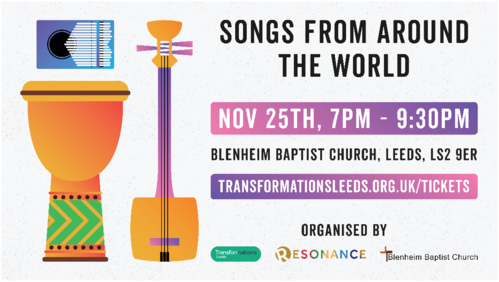 Event website

Posted by: Network Leeds

Event category: General