Northern Dioceses' Environment Group Meeting Wheeler Hall, Leeds Cathedral
View calendarView all events

Thursday, 8th June: 10:30am - 3:30pm

Wheeler Hall, St.Annes Street, Leeds, LS2 8BE
The Leeds Diocese J&P Commission is delighted to be able to host one of the regular meetings of the Northern Dioceses' Environment Group.
"Progress on the Journey to 2030" will offer an inter-active opportunity to explore our committments to Climate Action. A session will be led by John Paul de Quay, co-founder of the Ecological Conversion Network.
This meeting - which is open to everyone - brings together people from all the Northern Dioceses. There will be the opportunity to hear what each of us has been doing about our Climate Emergency and to hear what is also happening at a national level.
Helen Hayden, Executive member for the Climate Emergency with Leeds CIty Council (and member of the Leeds Diocese J&P Commission) will provide some insight into how Leeds City Council is moving towards net zero.
A light lunch will be provided for all those who register to attend.
If your time is limited then it is possible to sign up for just the morning or just the afternoon session.
The draft full programme is as follows:
10.00 - 10.30    Arrival, Registration and Coffee
10.30          Opening reflection
10.45          Progress on the Journey to 2030 - John Paul de Quay (Ecological Conversion Group)
12.00          Updates on Dioceses' progress to carbon reduction targets
12.30           Lunch and networking
1.30            Towards Net Zero - Helen Hayden (Leeds City Council Exec Member on Climate Change
2.00           Interactive activity session (John Paul de Quay)
2.30           Information sharing and resources (All)
3.15           Feedback on the day
3.30            Depart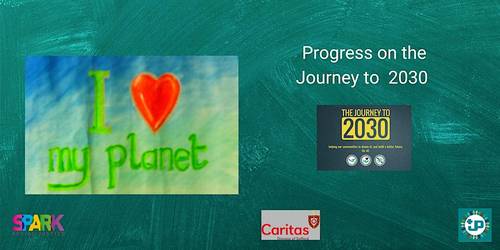 07889466788

Website

Facebook

Posted by: Network Leeds

Event category: General