MIGRANT ACTION:COVID19 Vaccine Hesitancy and Health Justice Workshop
View calendarView all events

Wednesday, 14th April: 10:00am - 12:00pm

Online, LS2 7QZ
The crushing economic impact of Covid-19 is most visible amongst these communities who are overrepresented at the 'frontline' and in the most precarious, disposable, insecure and low paid jobs. Migrants, who have no recourse to public funds, don't have a 'safety-net to fall back whilst those with insecure or irregular immigration status, are wary about participating in Covid-19 responses including the vaccine.
Whilst vaccine 'hesitancy' is complex, covid-19 outcomes for BME and migrant communities are precariously obvious.
Migrant Action is organising a collaborative workshop to:
Enhance constructive discourse about covid-19/vaccine
Ensure equity of access to the vaccine
Challenge conspiracies and transform vaccine hesitancy
Workshop format
Keynote speakers/group discussion facilitators ( 10 minutes each)
§ Breakout rooms- facilitated group discussions ( 25 mins).
§ Q&A - 20-25mins
§ Closing remarks
Click on the link to book for the workshop
https://www.eventbrite.co.uk/e/migrant-action-covid19-vaccine-hesitancy-and-health-justice-workshop-tickets-147436359119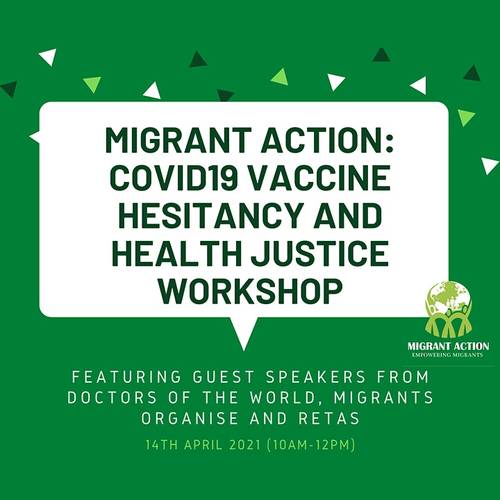 Event website

01133731763

Website

Posted by: Network Leeds

Event category: General