Wednesday, 12th February: 5:00pm - 9:00pm

Leeds Church Institute, 20 New Market Street, Leeds, West Yorkshire, LS1 6DG
Please join us at this year's Leeds Lent Prayer Diary Launch, a relaxed and informal free evening event that offers the chance to socialise, whilst at the same time discovering some of the initiatives that are transforming communities in our city.
Come and meet some of the projects featured in the Leeds Lent Prayer Diary 2020; nearly 20 have confirmed their attendance to date. Many of these organisations are facing challenging times and so knowing that many people will be praying together for them this Lent is a real encouragement.
Diary Collection Point – Leeds Church Institute is one of the designated 3 places across the city that ordered diaries can be collected from. If you haven't yet ordered any diaries and you'd like to, this can be done here.
Food – We will be serving a colourful and delicious vegetarian buffet from 6pm onwards, catered by Shine.
Everyone is welcome so if you have any friends or colleagues who might like to join us too, please do let them know about this event. To help with catering please will you and your friends book your tickets via Eventbrite .
If you've not been to Leeds Church Institute before (20 New Market Street, Leeds LS1, 6DG), here are some Directions. If you are coming by car, parking at John Lewis is £3 after 5 pm. Victoria multi-story Car Park. Enter from Eastgate roundabout, Leeds, LS2 7AS. If you are coming by bus, you get off at the Corn Exchange. The entrance to the building is on Central Road, at the back of House of Fraser and next door to Samuel Taylors. There will be someone on the door to give you a warm welcome.
Let us know if you are coming via Eventbrite.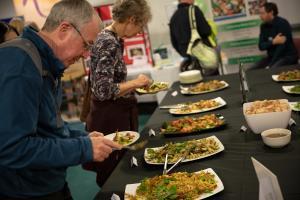 Event website

0113 2454700

Website

Facebook

Twitter

Posted by: Network Leeds

Event category: Prayer