Tuesday, 5th December: 6:00pm - 7:30pm

Holy Trinity Church, Boar Lane, Leeds, LS1 6HW
Christians In Media, Leeds Hub Meet-Up
Join us for our next meet-up at Holy Trinity Church in the heart of Leeds. This event is an excellent opportunity to connect with fellow media and digital professionals who work and play in these areas, live in or around Leeds, and share the same faith and passion.
Whether you're a journalist, filmmaker, social media guru, YouTuber, Substacker, or your local church media and digital go-to person, this meet-up is for you!
Come and share your experiences, network, and gain inspiration from like-minded individuals. We'll have tea and coffee available and as it's Christmas we'll stock up on the mince pies!
In this month's event, one of our hub leaders, Mark Kelly, is presenting the usual members 'spotlight talk'. Mark is a YouTuber, Writer, and Videographer. He'll talk about how he came to be all these things and share some of the highs he's celebrated and his challenges.
This event is an excellent opportunity to make new friends, pray together and be encouraged. Don't miss out on this exciting gathering of Christians in media!
Email us: leeds@christiansinmedia.co.uk
This Leeds Hub is part of the wider Christians In Media network. Find information about this network here: www.christiansinmedia.co.uk.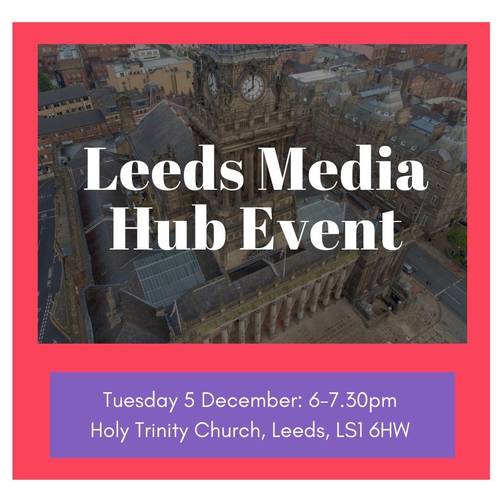 Event website

Website

Facebook

Posted by: Mark Kelly

Event category: General