Thursday, 6th October: 10:00am - 2:00pm

Holme church, Madison avene, Bradford, Bd4 9RY
This is a day open to all who are in leadership.
The Church is in transition. The COVID pandemic has left many with questions and challenges. This day will help to equipe leaders of all types to face our new situation with hope and confidence in Him.
Dawna De Silva is the founder and co-leader with Teresa Liebscher of the International Bethel Sozo Ministry. She and her husband, Stephen De Silva, have ministered from Bethel for the past twenty years as well as preaching, speaking, and authoring books. Dawna's manual on Shifting Atmospheres has become a sought after tool for daily empowerment. Whether training in Sozo, preaching, shifting atmospheres, or ministering prophetically, Dawna releases people, churches, and cities into new vision and freedom. Dawna has been part of revival culture as part of Bethel church, Redding USA and has spoken to many leaders over the years. She is able to give keys to revival and how to walk in revival, and how to hold hope in leadership through challenging times.
The day will be:-
9.30am - Doors open
10am- Worship
10.45am - Dawna speaks and ministers
12.30 - Lunch (provided as part of the day)
2pm Finish
There is no set cost to this event but we are asking you to register so that you we can cater for the correct numbers.
We will be taking up an offering on this day to cover costs.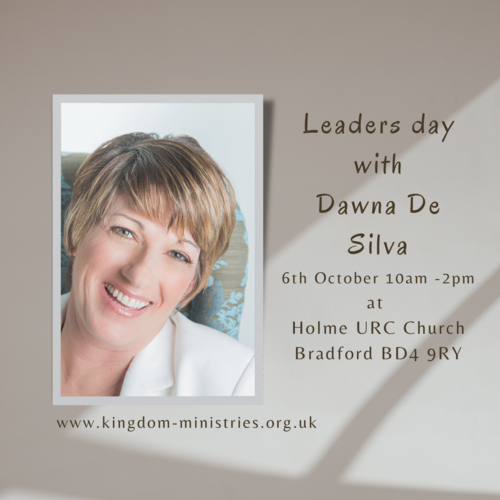 Event website

View event flyer

07557967889

Website

Facebook

Twitter

Posted by: Liz Gregg

Event category: General