Tuesday, 12th September: 6:00pm - 8:30pm

Roscoe Methodist Church, 123 Chapeltown Road, Leeds, LS7 4EE
Come and hear stories of how churches and communities have come together to bring about change for justice and better lives for all.
We will explore Community Organising as a tool for challenging injustice and campaigning for change, as well as developing discipleship and helping churches to connect and flourish in their local communities.
Discover the theological roots and values of Community Organising, with space for reflection, prayer, questions and practical application.
Dinner will be provided, please let us know if you have any dietary requirements.
If you have any questions about the event please contact Paul Coleman on margins@leedschurchinstitute.org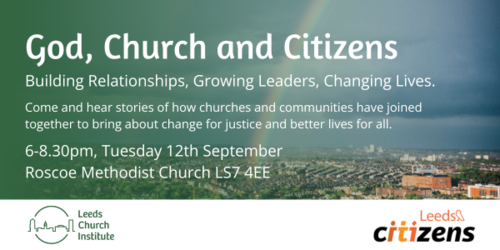 Event website

View event flyer

0113 2454700

Website

Facebook

Twitter

Posted by: Emma Temple

Event category: Social action