Sunday, 6th September - Saturday, 12th September

LS6 3HN
Leeds' first Festival of Kindness, Compassion, and Wellbeing launch online on Sunday 6th September. There's a whole week of free events you can watch from the comfort of your own home. With the effects of the pandemic, economic uncertainty, and the issues raised by Black Lives Matter weighing on us all, there is no better time to come together to share and celebrate the hope that the many acts of kindness, taking place within our city, represent.
The festival aims to support and inspire many more people to get involved in making Leeds, and beyond, a great place to live. As one of the co-founders of the festival says, it all starts with a kindness revolution in ourselves by asking - "How can I make myself a kinder place?"
The festival runs from 6th-12th September, is organised by volunteers and is supported by several partner organisations,
For full details of all events visit kinderleeds.org and join the conversation at #KinderLeeds.
Contact info:
Instagram: @kinder.leeds
Twitter: @kinderleeds
Facebook: /kinderleeds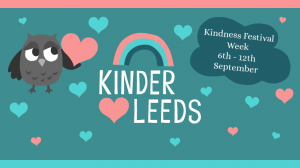 Posted by: Network Leeds

Event category: General