Sunday, 11th June: 11:00am - 4:00pm

Leeds City Museum, Millennium Square, Leeds, LS2 8BH
Join us on Sunday June 11th for Dadstastic Day!
Take part in a day of free family fun at Leeds City Museum celebrating Father's Day. There is a wide range of activities for 0-11 yr olds, creating opportunities for parents and carers to interact with their kids. Children up to primary age can enjoy: music, dance, science, storytelling, arts and crafts, and sport

It will be held from 11-4pm at Leeds City Museum, Millennium Square, LS2 8BH
Dadstastic Day is split into 3 sessions this year. You can book EITHER:
Session 1: 11:00am – 12:30pm
Session 2: 12:30pm – 2:00pm
Session 3: 2:00pm – 3:30pm

Then when you arrive, you'll be able to choose the activities you want to attend.
Indoor activities at Leeds City Museum
Explore new worlds in our immersive green-screen experience, take a dance workshop with Northern School of Contenmporary Dance, get your face painted with the Hamara Centre, join Number Train for some fun with numbers, create art with Zulu King Monk or Scraptastic, bring plasticine models to life with StopMotion, create fabulous Leeds West Indian Carnival costume pieces with Valentina's Collective, explore coding and robotics with Leeds Libraries.

Outdoor activities at Millennium Square
Enjoy madcap street comedy with Maynard Flip Flap, have a singalong with Uncle Leroy and Aunty DiDi or learn to rap with Wilko Wilkes.
Make giant bubbles float over Leeds Civic Hall with Mr Bubbles, join Active Leeds Park Tennis for an inclusive game, and play Boccia with Active Leeds. We'll also have various other sports with Active Leeds. Leeds Mobile Library will be holding Story Time on the Story Bus, Leeds Playhouse will be bringing nursery tales to life!

Our volunteers will book you into your chosen activities on the day, all you need to do is book your time slot by choosing session 1, 2 or 3 for you, your partners, and your children.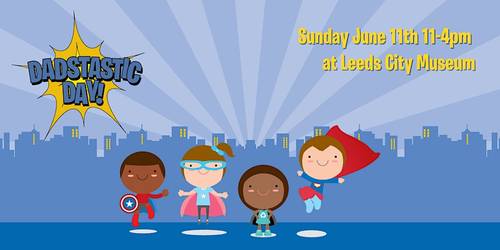 Event website

Posted by: Network Leeds

Event category: General