Saturday, 16th September: 12:30pm - 4:00pm

Leeds City Mission Hub, Mistress Lane, Armley, Leeds, West Yorkshire, LS12 2HL
Leeds City Mission is the oldest interdenominational christian agency in Leeds. Since 1837 it has reached out with the gospel in word and deed to those at the margins of life - offenders, unemployed, addicts and the many who are just struggling with life.
In 2021 it opened a new chapter in its long history. Premises were acquired in Armley to provide office space, a meeting room, drop in facilities for homeless, floor space for its charity shop & Christian Book & Card Booth plus the capacity to devleop new ministries and projects.
A new Christian Hub has been created in premises originally built in 1923 as the 'Mission Room'. These premises have an interesting history. Originally built as a Methodist Mission, it later became a Temperance Hall and the headquarters of the Yorkshire Band of Hope Union. Just before the Covid Pandemic it was acquired by Leeds City Mission.
To celebrate the centenary of the building of the 'Mission Room' the City Mission is inviting the Leeds Christian community to their special Centenary Praise Open Afternoon on Saturday 16 September. The City Mission Hub is located at Mistress Lane, Armley, Leeds, LS12 2HL. This is the last public buidling at the end of Town Street/beginning of Mistress Lane and is diagonally opposite Armley Library.
Between 12.30 - 1.30 pm visitors can enjoy a free light lunch - soup, roll, sandwiches, cake etc. From 1.30 - 2.30 pm there will be a short historical talk outlining the various organisations who have made the 'Mission Room' their base over the years. There will be a mission update and an inspiring message from Brad Balmer (Redeemer Church Leeds). In the last part of the afternoon (2.30 - 4.00 pm) ice creams, soft drinks, tea and other refreshments will be served.
Visitors are welcome to attend either all or part of the afternoon programme. This is a first class event enabling believers to meet each other from around the city.
Further details on 0113 345 3118 or visit the website www.leedscitymission.org
TRAVEL
By bus - 15, 16, 81, 86, 87 (Armley Town Street) or 14, 72, X6, X11 (Junction of Armley Road/Stanningley Road)
By car - Two minutes drive from Armley Gyratory. Plenty of on-street parking available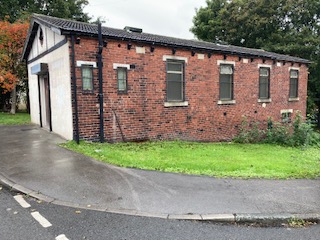 Event website

01133453118

Website

Posted by: Andrew Dalton

Event category: General