Monday, 4th December: 10:30am - 3:00pm

Banqueting Hall, Leeds Civic Hall, Leeds, LS1 1UR
Join us for a special conference on the topics of Antisemitism and Anti-Muslim Prejudice. There will be an opportunity to hear from some key community leaders on these agendas and then some round table activities to gain the views of event participants.
Attendees will hear from Religion or Belief Elected Member Champion, Councillor Marshall-Katung. Qari Asim will speak about the Muslim community in Leeds and the history and positive contributions that they have made to the city. Alan Benstock from the Leeds Jewish Representative Council will speak similarly on the impact of the Jewish community in Leeds.
Tell Mama and the Community Security Trust will be presenting about their work on a national level to tackle Anti-Muslim Prejudice and Antisemitism. There will be input from the Equality team at Leeds City Council about the work they do locally on the issues.
For more information and to book a free place, click here.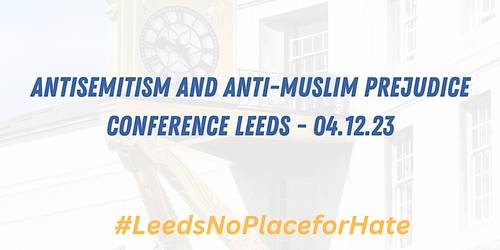 Event website

Posted by: Network Leeds

Event category: General