Saturday, 11th November: 2:00pm - 3:00pm

Gateway Church, Saint Mark's Road , Woodhouse, Leeds, LS2 9AF
We warmly welcome all our alumni to join us for our annual St Hild alumni gathering in Leeds. This year we will be meeting in Leeds and we are delighted to have Dr Elli Wort as our guest speaker, who will be talking on contextual mission to the North of England.
As well as learning together, the aim of this event is to provide space to network and be inspired by others, so we will be allowing plenty of social time to reconnect with friends and other alumni of St Hild. We will also be providing an afternoon tea and drinks. We hope you will join us for what promises to be an engaging and rewarding afternoon! This is a free event for alumni of St Hild College. Please sign up here.
Dr Wort will be speaking on the topic: "Is there a 'Northern Gospel'? What does the good news of Jesus look like in the North of England? Is there such a thing as a "Northern Gospel"?"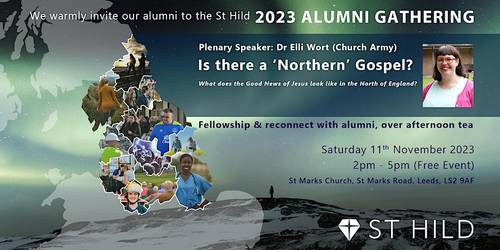 Event website

Posted by: Network Leeds

Event category: General