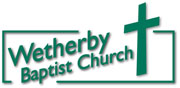 Small, friendly and active church meeting in Deighton Gates Primary School on the northern edge of Wetherby in West Yorkshire. We also run a second-hand bookshop, Margins, in the town centre.

Service times
Sunday: 10:30am-12:00pm

Address
Margins Bookshop, 2, Church Street, Wetherby, West Yorkshire LS22 6LP, United Kingdom
Get directions to Wetherby Baptist

Denomination: Baptist

07855 450940

Website

Contact: David Dawson (Church Secretary)

Thanks for all you help and you and the team are doing a great brilliant job!