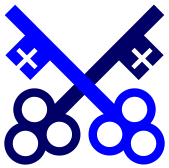 We are the "village church" for Rawdon and surrounding community - we both value tradition and the historic faith and joyfully embrace the best of what is new. We offer Sign language interpretation by a qualified interpreter at all services when requested. Text 07702 269608 . Our vicar also signs.

Address
St Peter's Church , Town St , Rawdon , Leeds, LS19 6QL
Get directions to St Peter's Rawdon

There is disabled access and provision at St Peter's Rawdon.

Denomination: Anglican

01133910389

Website

Contact: Mark Smith

Facebook