The Everlasting Father's Assembly is part of the Redeemed Christian Church of God (RCCG), an international network of churches.
RCCG Everlasting Father's Assembly, is a friendly, Bible believing and family-oriented church community in the heart of Leeds, West Yorkshire. This parish is, by the Grace of God, one of the fastest growing Christian denominations in the North of England today.
Whether you are working, studying or living in and around Leeds we look forward to welcoming you in person in the name of the Lord Jesus to the Everlasting Father's Assembly.
May the Lord visit and bless you, Amen.

Pastor Samuel & Pastor (Mrs) Anthonia OBAFAIYE,
Hosts



RCCG EFA Leeds' MISSION
Among Others are:
(1) To have a positive impact on the lives of the people in Leeds and its environs;
(2) Increase the knowledge of God in the land;
(3) Help people to discover their talents and purpose in life;
(4) Challenge and encourage members to achieve and maximise their potentials;
(5) Demonstrate the love and care of God to all mankind.

Service times
Sunday: 10:15am-11:00am and 11:00am-1:00pm
Wednesday: 6:30pm-8:30pm

Address
Land of Mercy, 15-17 Walter Street, off Kirkstall Road, Leeds, West Yorkshire, LS4 2BB
Get directions to RCCG Everlasting Father's Assembly

Category: General

Denomination: Other

07789758707

Website

Contact: Samuel Obafaiye

Facebook

Twitter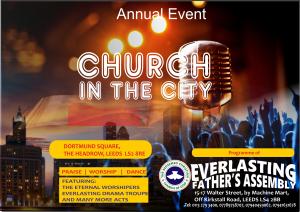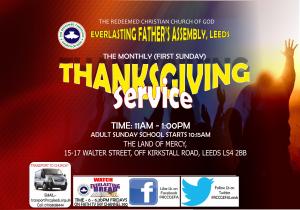 Network Leeds does exactly what it says on the tin!