Diocesan Intern
- Anglican Diocese of Leeds Internship Programme

View all jobs
Hours: Full time
Contract: Temporary
Closing date for applications: 4th April 2023
Is God calling you to be an intern?
Are you ready to take a year out and discover more of what God is calling you to and be stretched and challenged along the way?
Are you up for building and broadening your experience of serving the Kingdom of God?
The Anglican Diocese of Leeds is now recruiting for its Internship Programme which runs from September 2023 to July 2024.
It's an amazing opportunity for young adults to:
grow their gifts and skills

help build the Kingdom of God through serving in a church in Leeds, Bradford, Wakefield or in other parts of the Diocese

serve in a particular ministry such as children, youth, operations or worship; or gain a broader experience through serving across many different areas of church life

deepen your faith and understanding of the Bible

be equipped for life, work and leadership

journey alongside other interns.
Jess, one of our past interns said:
"This has given me the space to invest more in my relationship with God. It's challenged me to step outside of my comfort zone, explore gifts I didn't know I had and grow in those areas I am passionate about. I have felt incredibly supported and encouraged in my calling and walk with Jesus."
Over the year, you will need to bring a willingness to be stretched and challenged, and be able to fund your daily living expenses.
The Diocese will provide you with accommodation, free training, support (through a placement supervisor, a mentor, the church team and the Director of Interns). If needed, we can offer bursaries towards daily living expenses.
This is a volunteer position and carries no employment status.
For more information download our Internship brochure and visit our Diocesan Intern webpage .
To apply please email the Internship Administrator for an application form at katharine.greathead@leeds.anglican.org.
Applications need to be submitted by the deadline of 4th April 2023.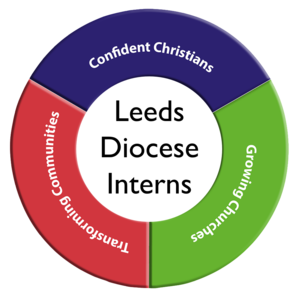 Contact: Katharine Greathead

0113 2000540

Website

Facebook