Freelance Coordinator
- Growing Old Grace-fully

View all jobs
Hours: Part time, 16.00hrs
Contract: Temporary
Closing date for applications: 24th October 2023
Interview date: 9th November 2023
Start date: 1st December 2023
Growing Old Grace-fully
is looking for an energetic self-starter to work on a freelance basis supporting the development of our project, started over 10 years ago, working with older people across the Diocese of Leeds.
The appointee will build upon the work of the project: supporting parishes, organising and sustaining the activities of Growing Old Grace-fully, as determined by its Trustees. S/he will be an excellent organiser with excellent communication skills, a good understanding of the needs of older people and sympathy with the ethos of the Catholic Church as well as commitment to ecumenical partnerships.
The project has funding for a part-time role, working 16 hours per week (or monthly equivalent) at £20 per hour plus travel expense.
We have funding initially for a one-year contract.
The closing date is October 24th 2023
Interviews will be held on Thursday 9th November 2023
To send for an application pack please e mail cathmahoney@hotmail.co.uk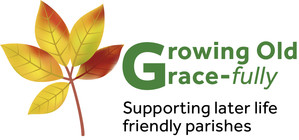 Contact: Cath Mahoney

Website