Wednesday, 19th January: 10:00am - Monday, 7th February: 5:00pm

Bradford Cathedral, 1 Stott Hill, Bradford, BD1 4EH, Bradford, Yorkshire and the Humber, BD1 4EH
Tear and Repair is a collaboration between artist Nicola Moody and Luton-based charity Azalea, who 'empower men and women to choose to walk free from being caught up in sex trafficking and commercial sexual exploitation'. She ran a series of workshops with the women who went to the charity for support.
Nicola Moody says:
"Five women were brave enough to share their stories with me. I recorded them and then translated them into textile art.
"They found the fact that they were sharing their stories, and that their stories were then going to be seen in some format, empowering, and they were keen to share. They were very open and incredibly honest with me, and I felt very honoured.
"Each textile looks very different. In some of them the colour is hugely significant: this referenced some of the drug taking. Some of them deliberately have holes or frayed areas; some of them have specific patterning; some of them have areas that are incredibly thin.
"In different parts of the weaving there are holes and areas where warp and weft threads are left hanging, and at other points those weft threads are scooped up and re-threaded and become stronger elements."
The artworks are installed on frames, and you can explore Bradford Cathedral to discover more about them.
"They're designed so that you can walk around them, so you can see through them, so that you can move from one to the other."
You can also contribute your own handiwork as part of the community weave: visitors to the exhibition are encouraged to try some weaving, with full instructions available.
You can see the exhibition in Bradford Cathedral until Monday 7th February.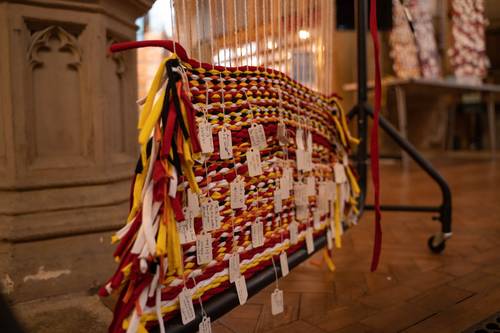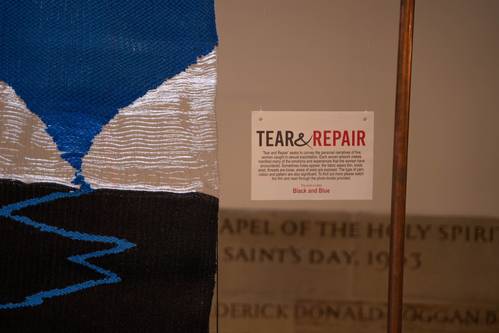 Event website

View event flyer

01274777720

Website

Facebook

Twitter

Posted by: Philip Lickley

Event category: Arts